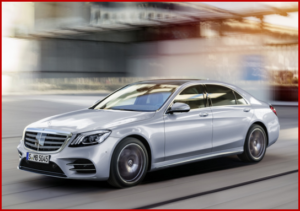 The first of the new Mercedes-Benz S‑Class vehicles – orders started in May – are on their way to European dealerships. after debuting in Shanghai last April. They will eventually find their way to North America. 
Now, sales of more models are beginning. These will take the new S‑Class family to a total of 24 models. Buyers have choices of nine gasoline and diesel engines, rear-wheel drive and four-wheel-drive, short and long wheelbase, and models branded Mercedes-Benz, Mercedes-AMG and Mercedes-Maybach, one of the more expensive automotive failures in its first revival as a freestanding model. (Mercedes-Maybach Convertible Debuts at Los Angeles) The latest models should arrive in German dealerships in October.
The lead of the S‑Class remains the Mercedes-AMG S 65 with its high-torque 6.0‑liter V12 twin turbocharged engine with 463 kW (630 horsepower) and 1000 Nm (fuel consumption combined: 11.9 l/100 km; combined CO2 emissions: 279 g/km). Just bring money – $272,437, which includes 19% "value added" tax.
A new electrified in-line six-cylinder comes with two output levels. In the S 450 an output of 270 kW (367 horsepower) and 500 Nm of torque (also as 4MATIC; fuel consumption combined: 7.0-6.6 l/100 km; combined CO2 emissions: 159-150 g/km) are available. The S 500 (fuel consumption combined: 6.6 l/100 km (more than 35 mpg in electro-speak new math); combined CO2 emissions: 150 g/km) delivers 320 kW (435 horsepower) and offers 520 Nm. The 49‑volt integral starter/alternator is can add a further 250 Nm of torque and 16 kW of output. Compared with the its S 500 predecessor with a V8 engine, CO2 emissions of the engine are cut by~22%.
The power increases of the six-cylinder gasoline engines to the level of the older eight-cylinder engines is reflected in the model designations: The new six-cylinder models are positioned as the S 450 and S 500.
The top-of-the-line Mercedes-Benz is the S 600 (fuel consumption combined: 11.6 l/100 km (20 mpg); combined CO2 emissions: 270 g/km). Its V12 setup delivers 390 kW (530 horsepower) and 830 Nm. The new twelve-cylinder engine in the Mercedes-Maybach S 650 delivers 463 kW (630 horsepower) and offers a maximum torque of 1000 Nm (fuel consumption combined: 12.7 l/100 km (18.5 mpg); combined CO2 emissions: 289 g/km). Acceleration from 0-60 mph is 4.2 seconds. The V-6 at 3.4 seconds is ironically faster.
The S-Class is the Mercedes-Benz flagship and was the world's best-selling luxury saloon in 2016. Since 2013 the company has sold well over 300,000 vehicles. Since the market launch, around four million S‑Class models have been delivered. It also has the dubious distinction of being demonstrated against by Eco-protestors at Geneva decades ago.