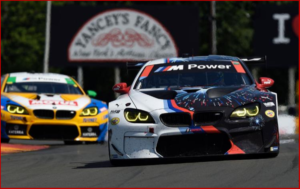 Lime Rock Park in Connecticut is claimed – dubiously – by BMW of North America as its home track because it's 90 miles from its Woodcliff Lake, New Jersey headquarters, but it is a long way from its non-union plant in Spartanburg, South Carolina.
That said, the small, fast circuit has been the site of BMW victories since 1975, and possibly a third consecutive IMSA Sports Car Championship (IWSC) with a win this weekend at the Northeast Grand Prix in the GTLM class.
Chevrolet C7Rs and Ford GTs are currently ahead of the Bavarians in the points race.  Two Porsche 911 RSR race cars – brand new at the start of the season with a design that puts the engine in front of the rear axle – are also formidable, just  trailing BMW. The racing will be tight and close. This is the only track in the series where 70 laps are run for the checkered flag – unique, unpredictable, and possibly paint swapping racing. 
Lime Rock is also the first of two 2017 WeatherTech Championship races in which the GTLM class headlines a two-class race with the GT Daytona (GTD) class, meaning the GTLM cars will race for an overall win.The 1.5-mile circuit will host the third race in four weeks for the GTLM and GTD classes. Both classes have seen sudden changes in championship battles with just five races remaining.
GTD
In the GTD class, points leaders Alessandro Balzan and Christina Nielsen will try for a first place finish for the first time this season in the No. 63 Scuderia Corsa Ferrari 488 GT3 after recording six straight podium finishes this year without a victory. They hold an eight-point lead, 203-195, over the No. 33 Riley Motorsports-Team AMG Mercedes-AMG GT3 of Jeroen Bleekemolen and Ben Keating.
Practice for the Northeast Grand Prix kicks off on Friday, July 21 at 12:05 p.m. ET, followed by another hour-long practice session at 2:25 p.m. and qualifying at 5:15 p.m. Also on the docket for Friday is a pair of practice sessions for the Continental Tire SportsCar Challenge and IMSA Prototype Challenge presented by Mazda. The Continental Tire Challenge qualifies on Friday at 3:40 p.m. ahead of Saturday's race scheduled for 10:25 a.m. The lone Prototype Challenge race will take place on Saturday at 12:45 p.m. The Northeast Grand Prix will be broadcast live flag-to-flag on FS2 starting at 3 p.m. ET, as well as on the FOX Sports GO app with FS2 authentication. Audio commentary also will be available on IMSA Radio via IMSA.com, RadioLeMans.com and SiriusXM Radio.
GTLM
The BMW Team RLL has five podium finishes this year with the its M6 GTLM, including two wins by Bill Auberlen (USA) and Alexander Sims (GBR), in the last three races. This made BMW third in GTLM class manufacturer points standings. It tallies with Auberlen and Sims and the number 25 BMW M6 GTLM to second in driver and team points respectively. Team-mates John Edwards (USA) and Martin Tomczyk (GER) have moved up to seventh in driver points after two podium finishes in the last three races in the number 24 BMW M6 GTLM.
 Bobby Rahal – Team Principal, BMW Team RLL
"Obviously we are pleased with the level of success that we have had so far this year. The cars are now competitive compared to where we were last year and the early part of this year. I'm really pleased and very appreciative of all the work that BMW Motorsport and our team has done in improving the handling of the car. " (Yes, he's paid to say that)
"We have found some real gains recently that have really made the car quite good in these long, fast corners. Lime Rock is not Watkins Glen or Mosport in terms of length and overall speed perhaps but it does have a fair number of reasonably quick corners and, once again, that tends to play to our strength," claimed Rahal, a formidable open-wheel Indy Car driver in his past life.