Chinese-owned* MG Motor's first-ever fully electric car, a compact SUV, the ZS EV, will be shown to the UK and European public for the very first time at the London Motor Show on 16-19 May at London's ExCel.
It's just the latest example of  how China is poised to take leadership in the design, development and manufacturing of electric vehicles because of government policies that are forcing the growth and ownership of intellectual property, high tech manufacturing, advanced electronic and automotive engineering and all things that are state of the art – ultimately to the expense of Western Automakers who led the way there.
Since launch in November 2017, the gasoline-fueled MG ZS has become a rare, but growing sight on British and Euro roads (+5000 sold during 2019). With prices starting from £12,495 and a 7-year warranty, it's in the sweet spot of the small SUV market, one that is growing globally.
Since the EV version it was announced in March 2019 as the ZS's zero emissions electric equivalent, MG UK says it has received 800 expressions of interest for its forthcoming new model, which is the most for any pre-launched model in the company's history. (What part of history given the long and complicated transfers of MG ownership since 1924 wasn't clear.)  By comparison, consider Porsche pre-orders for its EV is much larger than that. (Porsche Claims 20,000 Potential Taycan Buyers) VW is claiming 10,000 people with interest tin its E$40,000 ID3 that lachnes eraly newxt year.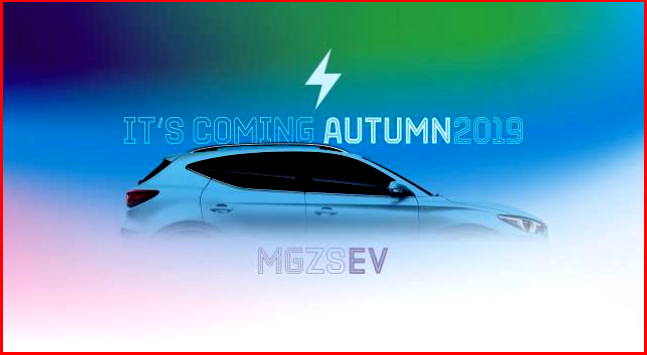 Daniel Gregorious, Head of Sales and Marketing at MG Motor UK, says, "The arrival of the ZS EV adds a new dimension to the car market by offering high-tech zero-emissions transport to a broader cross-section of buyers." (Translation it's cheaper than higher-end German EVs.)
The ZS EV will come with a transferable 7-year Warranty. Pricing and full specification will be confirmed closer to the on-sale date of 1 September 2019. To find out more about ZS EV, register at www.mg.co.uk.
The show takes place from 16-19 May at London's ExCel Arena, with tickets on sale now. Adult entry costs from £10, with free entry for children under 16.
*Formerly Shanghai Automotive Industry Corporation