The China Development Forum that just took place in Beijing sees government representatives and international business leaders discuss the future of China's economic development. China, of course, is at odds with President Trump for its import taxes – automobiles being high on the list – and its trade policies and currency manipulation. (Trump versus Auto Industry – Outcome Could be Ugly)
Several hundred attendees explored the topic "China and the World: Economic Transformation through Structural Reform" in sessions at the Diaoyutai State Guesthouse. Daimler Chairman Dieter Zetsche at the forum outlined trends in the automotive industry and the company's approach to reshaping mobility.
Daimler, too, is under attack for its export polices to the U.S. and is vulnerable in China as well to so-called border taxes. (Giant Sucking Sound – Nissan and Daimler to Build Luxury Cars in Mexico under new Joint Venture)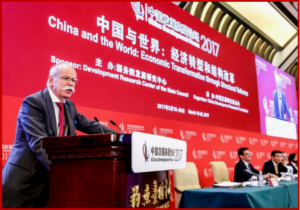 "The automotive industry is experiencing fundamental change: connectivity, autonomous driving, sharing and electric mobility," said Zetsche, stating the obvious.  "Each of these has the power to turn our entire industry upside down. [It's almost topsy-turvynow] And I truly believe: China can be 'the turbo' of this transformation."
Zetsche thinks that electric mobility, for instance, is developing quickly China. It's prompted by activist government policies to improve emissions and reduce China's deadly air quality while building its auto industry in what is the world's largest market. (California Proposes Strict Greenhouse Gases, Fuel Economy Rules for 2030) Mindful of import tax threat, Daimler will contribute  by planning to produce a new generation of electric Mercedes-Benz models also in China. It has little choice. (Shareholders' Meeting Sets Highest Dividend Ever for Daimler or Australian Union Calls for Action on Chinese Steel)
Through its government-dictated cooperation with local partners, China continues to be the largest individual sales market globally for Mercedes-Benz Cars during 2016. Today, around two-thirds of the Mercedes-Benz passenger cars sold in China are manufactured locally.
A key to this has been a  local research and development base, which currently employs 700 engineers and designers. Together with its mandated Chinese partner BAIC, Daimler also invests in local production. In 2016, the two companies agreed on outlays of four billion RMB (more than €500 million) in the further expansion of the Beijing-based engine plant.
Daimler claims, with some justification, the new E-Class Long-Wheelbase launched last year in China marks a milestone on the road to autonomous driving, with an array of connectivity technologies and services for local customers. (New Semi-Autonomous E-Class Premiers at NAIAS, Mercedes Bends, Pulling E-Class Self-Driving Car Ads) As a leading mobility service provider, Daimler was the first premium automaker to offer car-sharing in China. The free- floating car-sharing service car2go launched in Chongqing in April 2016.
Local Chinese production of Mercedes-Benz passenger cars also includes the C 350 e L plug-in hybrid model, and several imported plug-in hybrid models are also available. Daimler further extended its EV line with the recent introduction of an upgraded model of DENZA, the company's pure electric vehicle brand. As the Chinese market holds great potential in electric mobility, Daimler is also planning to build cars of the EQ brand in China. (Mercedes-Benz to Build at Bremen Its First Electric Car – EQ)