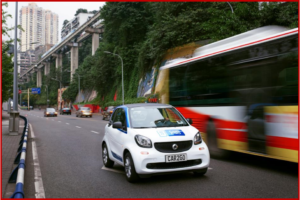 Mercedes-Benz Auto Finance announced today that it is merging its car sharing operations in China, car2go and Car2Share. The consolidated car2go China Company will be headed by Ms. Chen Bing as Chief Executive Officer. Mercedes claims that it is demonstrating its "commitment to expanding car sharing services locally."
Aside from the hype, Benz is arguably the first premium car manufacturer to offer both free-floating and station-based car sharing services in China. As such, the consolidation of the two brands is an important milestone in the expansion of mobility services, one that mirrors a global trend among major automakers.
"With the consolidation of all local car sharing operations now under one roof, the company (claims) can provide the right mobility solution for every situation, with mobility at fingertips via a smartphone," says Alexandre Mallmann, President and Chief Executive Officer, Mercedes-Benz Auto Finance.
"Our aim with car2go China is that by providing users with services perfect for any occasion, more and more Chinese customers can choose alternate mobility solutions for their daily travels," said Ms. Chen Bing, Chief Executive Officer, car2go China Company. "With our expertise in both free-floating and station-based services, we can provide customers with an even better mobility service experience." Chen Bing appears to be among the highest-ranking women in the Chinese Auto business,
So-called car2go China currently operates in seven cities across China, including Beijing, Shanghai, Guangzhou, Shenzhen, Chengdu, Hangzhou and Chongqing. In 2016, the combined registered users of both services exceeded 250,000, a twelve-fold growth over the previous year. In 2016 car sharing customers in China drove ~5 million kilometers last year – enough to travel around the world 121 times.
The free-floating car sharing service car2go launched in Chongqing in April 2016, bringing its car sharing service to Asia for the first time. Right now, Chongqing ranks among the top ten largest car2go programs in the world. Daimler became the first premium brand to offer car sharing services in China with Car2Share, the stationed-based car sharing program. Through partnerships with business partners as of last year, its total coverage reached over 60 stations.