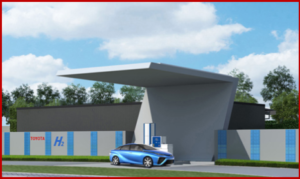 While nit-twit tweet Trump is bellowing about infrastructure with no plan, no bills, no timeline, Japan is building – not talking – as illustrated by 11 Japanese companies signing a memorandum of understanding aimed at the acceleration of the construction of hydrogen stations.
It's classic pump priming – both senses – in the current early stage of fuel cell vehicle commercialization using an "all Japan" approach.
The latest high-technology move from Japan Inc comes from the Japanese government's "Strategic Roadmap for Hydrogen and Fuel Cells" that targets a total of 160 operational hydrogen stations and 40,000 in-use FCVs by fiscal 2020.
The 11 companies say they will consider establishing a new company within 2017 (April 1, 2017 through March 31, 2018). The new company would aim to: 1) achieve steady construction of hydrogen stations by implementing measures to support hydrogen-station construction and operation, and 2) achieve wider use of FCVs and the independence of the hydrogen station business through activities for reducing costs, including governmental review of regulations, and activities for improving operational efficiencies, thus contributing to the realization of a hydrogen society in Japan.
The 11 companies claim, with likely good reasoning, that they will consider ways for broad participation by other companies in the future.
Japan Inc
Toyota Motor Co
Nissan Motor Co
Honda Motor Co
JXTG Nippon Oil & Energy
Idemitsu Kosan Co
Iwatani Co
Tokyo Gas Co
Toho Gas Co
Air Liquide Japan
Toyota Tsusho Co
Development Bank of Japan