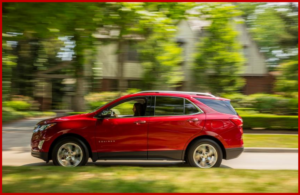 The 2018 Chevrolet Equinox offers an EPA-certified 39 mpg on the highway (FWD model) with the optional 1.6L turbo-diesel engine – yes, a diminutive1.6 liters, one of three relatively small force-fed engines in the popular crossover SUV. The fuel economy rating is expected by General Motors to lead the segment in highway fuel economy, better than the 2017 Toyota RAV4 hybrid and Nissan Rogue hybrid. If the rating reflects real-world driving, the resulting 577-mile cruising range (FWD) also means tremendous reach – if the driver can stay awake. Equinox diesel can travel between fill-ups: Chicago to Memphis, Tennessee, or Boston to Richmond, Virginia.
"Chevrolet continues to lead with technologies that offer customers more choice," said Steve Majoros, marketing director for Cars and Crossovers. "Our three-engine turbo-charged Equinox lineup means we can provide drivers more options for the performance and efficiency they desire." (Whether anything remains of the diminutive diesel market with the ongoing Volkswagen diesel scandal, and relatively inexpensive gasoline prices remains to be seen. However, this is among the world's hottest segments.)
The 2018 Equinox is on sale now, starting at $24,475 (including destination charge). Pricing for the turbo-diesel engine starts at $31,435 (including destination) when it goes on sale this fall. Tax, title, license and dealer fees extra, as always. (See also: Equinox SUV Design Enhances Aero – Sort of – for a Box, Chevrolet Orlando Debuts this October in Canada, but not U.S. Competitive MPV Rejected Because of Greater Equinox Profits)
The new turbo-diesel engine is part of Equinox's trio of all-turbocharged propulsion systems. It is SAE-certified at 240 lb-ft of torque (325 Nm) and incorporates a variable-geometry turbocharger that helps generate strong torque at low rpm and more horsepower at higher rpm. The engine also has what is now commonly used stop/start technology to increase efficiency in stop-and-go driving and it is compatible with B20 bio-diesel fuel. AutoInformed hasn't driven the Equinox, but some GM start/stop calibrations are noticeably rough.
"It is very fun to drive, with torque on demand at all speeds," claims Dan Nicholson, vice president of Global Propulsion Systems. "In fact, the engine delivers 90% of peak torque (216) between 1,500 and 3,250 rpm. The strong torque provides the feeling of a larger engine, with exceptional smoothness and quietness."
The 1.6L is a clean-sheet redesign developed entirely within General Motors, including the engine control system. Development was driven from GM's diesel product center in Torino, Italy, and involved more than 24,000 hours of computational analysis, while simulated and real-world testing totaled more than 4.35 million miles of driving.
2018 Equinox
The all-new 2018 Equinox is a fresh and modern compact SUV featuring an expressive design, increased cargo space, the latest connectivity, expanded roster of available safety features and all-new range of turbocharged engines.
Industry common technologies are designed to help keep passengers safe, comfortable and connected. Teen Driver is offered along with safety features such as Safety Alert Seat, Surround Vision, Forward Collision Alert with Following Distance Indicator.