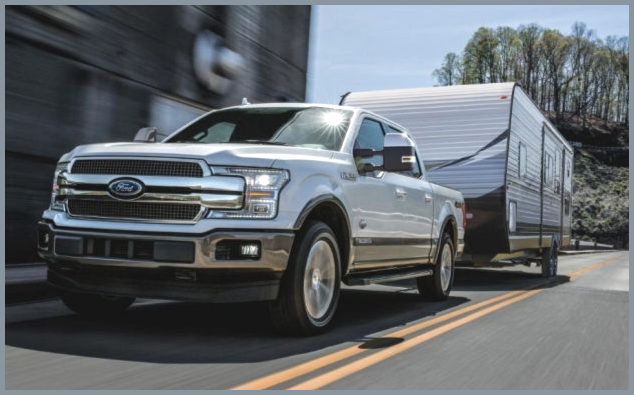 Ford F-150 will finally have an all-new 3.0-liter Power Stroke diesel engine aimed to return an EPA-estimated rating of 30 mpg highway. The oil-burner is hoped to provide best-in-class diesel oomph with 250 horsepower and 440 lb.-ft. of torque. This is a sixth engine choice for F-150 customers. Final EPA F-150 3.0-liter diesel fuel economy estimates will be published this spring.
The best in class bragging – if it sticks – will see an engine rated at 11,400 pounds of towing capacity and 2,020 pounds of payload capacity, with a BiC diesel of 250 horsepower and 440 lb.-ft. of torque. The diesel is available for both 4×2 and 4×4 F-150 pickups.
Retail customers can choose this engine option for 2018 F-150 Lariat, King Ranch and Platinum edition SuperCrew trucks with either a 5.5-foot or 6.5-foot bed configuration, and SuperCab trucks with a 6.5-foot bed configuration. For fleet customers who use their truck for work, not as a fashion accessory, the 3.0-liter diesel engine will be available on all F-150 trim levels with SuperCrew 5.5-foot or 6.5-foot bed configurations and SuperCab trucks with a 6.5-foot bed.
The F-150 Power Stroke diesel shares proven commercial-grade technology with F-Series Super Duty's larger 6.7-liter Power Stroke. This begs the question if a version will find its way into next year's Edge revision?
Peak torque is at 1,750 rpm with what's claimed to be a relatively flat curve continuing throughout the rpm range. The V6 diesel has the same compacted-graphite iron block material construction and forged-steel crank used in the 2.7-liter EcoBoost engine. To reduce turbo——lag, it uses a high-efficiency variable-geometry turbocharger. A common-rail fuel injection system precisely optimizes fuel efficiency, with a high-pressure 29,000 pounds per square inch injection for reduced emission could lesson parasitic loss and improved fuel efficiency.
Extreme driving conditions are noted by a mechanical engine-driven fan and dual radiator shutters for improved high temperature, high-altitude performance – a potential advantage versus the electric cooling fans used by competitors who, well, Rammed into the lead with diesel engines.
"We know that competing diesels with electric cooling fans have to dial back on power under extreme heat and altitude, so we decided on a viscous-controlled mechanical fan that has the capacity to move much more air across the radiator and intercooler in extreme conditions," said David Ives, Ford diesel engine technical specialist. "This gives F-150 Power Stroke owners more power and more passing capability in harsh conditions."
In more moderate driving and towing conditions, the F-150 engine control system backs off the fan load through a viscous coupler, closing the two radiator shutters for improved aerodynamic efficiency and reduced parasitic engine loss.
Calibrated for the 3.0-liter Power Stroke diesel's low-end power and torque curves, a standard 10-speed automatic transmission maximizes shift points and gear ratios to elevate power, low-rpm torque and efficiency. This segment-exclusive transmission can non-sequentially select the right gear ratio based on need – a claim that awaits road testing. To help reduce fuel consumption and vehicle emissions during city driving, Auto Start-Stop also comes standard.
In testing along the Davis Dam in Arizona, F-150 equipped with the all-new 3.0-liter Power Stroke diesel engine climbed 13 miles at a 6 percent grade in temperatures more than 100 degrees – maintaining consistent power output throughout it's said.
Spring Deliveries
In mid-January, Ford dealers begin taking orders for the 2018 F-150 with all-new 3.0-liter Power Stroke diesel engine. Deliveries begin this spring. Whether it's a good idea to buy early in a model run is debatable. (see https://media.ford.com/content/dam/fordmedia/North%20America/US/product/2018/f-150/2018-F150-Powerstroke-Diesel-Broll.mp4)