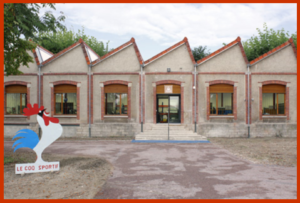 The Renault Sport Formula One Team has a new team kit supplier – le coq sportif (sic). The 19th century brand has multiple deals with athletes in football, cycling, tennis and rugby. Financial terms were not disclosed in what is an obscenely expensive form of auto racing when actually occurs.
The drivers and the members of Renault Sport Formula One Team during the 2018 season will wear a variant of the sports brand.
"We are already working on a complete merchandising range in the team colors and collaborative projects that will allow our programs to crossover," said Cyril Abiteboul, Renault Sport Racing Managing Director.  Translation the line will be sold to fans.
Romilly-sur-Seine
During September 2010, a new sportif research & development center opened in le coq sportif's original factory building in Romilly-sur-Seine. Sportif claims the choice of location is more than just a casual nod to our history. Le coq sportif was founded 130 years ago, in 1882, in Romilly-sur-Seine near Troyes, France's knitwear capital.
"It's a bridge between our heritage and the new collections in our future, between the simplicity that characterized our first products and the ongoing inventiveness that keeps our new models resolutely modern," said Marc-Henri Beausire, le coq sportif CEO. "We wish Renault Sport Formula One Team great success and we will experience each race with passion and emotion." Marc-Henri Beausire, le coq sportif CEO.
Le coq sportif has had notable moments – Bernard Hinault's five Tour de France victories, Yannick Noah's 1983 French Open win, and Argentina's World Cup victory in 1986, led by Diego Maradona, which followed Italy's win in 1982 – that connect the brand to sport.
Today, le coq sportif is a clothing sponsor to athletes in its historic sports: the tricolour brand provides high-performance jerseys to the Tour de France leaders, and in January 2014 it launched a deal with French tennis player Richard Gasquet. Football with the French team ASSE Saint-Etienne and the Italian team ACF Fiorentina. Rugby with the Racing 92 team and has signed contracts with a dozen of top French rugby players.
Le coq sportif has four subsidiaries France, Spain / Portugal, Great Britain and Italy. The brand is available in more than 70 countries and counts 82 own stores, including 20 in France.