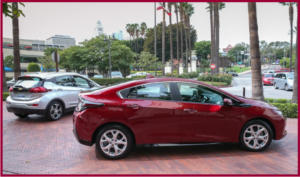 Maven, General Motors' personal mobility brand, is expanding to the western United States, adding Denver, Los Angeles and San Francisco as markets. In 10 months, Maven has launched three products and has grown to 13 U.S. cities: Ann Arbor, Michigan; Baltimore; Boston; Chicago; Denver; Detroit; Los Angeles; Jersey City, New Jersey; New York City; Orlando, Florida; San Diego; San Francisco; and Washington, D.C.
More than 13,000 members have joined Maven and have traveled 28 million miles to connect to the people, places and experiences. Pricing in each western market starts at $8 an hour and includes insurance and fuel. There are no monthly membership or application fees.
Newest Maven Urban Markets
Denver: Residents can download and use the free Maven app (www.mavendrive.com) to reserve a vehicle that best fits their lifestyle needs. Available models include the hybrid electric Chevrolet Volt and larger models such as the Chevrolet Tahoe and GMC Yukon. Additional models are the Chevrolet Cruze and Malibu, GMC Acadia and the Cadillac ATS, CT6, CTS and Escalade. Several vehicles include either a bike rack or ski rack.
Initial Maven City vehicle locations are in and around Lower Highlands, Lower Downtown, River North, Capitol Hill, Cherry Creek, Broadway, Baker, City Park, Central Business District, Auraria, Cheesman Park, Washington Park, University, Five Points, Speer, Sloan Lake, Jefferson Park and Civic Center.
"Car share provides another option to get around town, reduces the demand for parking and incentivizes people to explore a car-lite lifestyle," said Crissy Fanganello, Denver's Director of Transportation and Mobility.
Los Angeles: The continued revitalization of downtown and the city's investment in transit and bike infrastructure now make living car-free in Los Angeles a viable option. Customers in Los Angeles can choose from several models including the Chevrolet Cruze, Malibu, Tahoe and Volt; GMC Acadia and Yukon; and Cadillac ATS, CTS, CT6, XT5 and Escalade.
There are 60 Maven vehicles at about 30 Maven City stations, with an emphasis on downtown, Little Tokyo, South Park and the University of Southern California.
San Francisco:  Registered customers can reserve one of 60 vehicles at more than 30 sites throughout the city including the Financial District, Embarcadero, SOMA and the Mission District. Available models include Chevrolet Cruze, Malibu, Tahoe and Volt; GMC Yukon; and Cadillac ATS, CTS, XT5, CT6, XT5 and Escalade.
Innovating
Maven is testing future shared mobility services at GM campus car-sharing locations. Campus car-sharing services are currently operating at GM do Brasil headquarters in Sao Cataeno do Sul and at GM Australia/Holden headquarters.
There are now more than 90 global Maven team members as the brand continues to recruit people from the car-sharing, ridesharing and connected car industries, as well from within GM. The Maven team already has filed seven patent applications to help make car sharing more intelligent.
The Numbers
Maven has more than 13,000 members who have made more than 14,000 reservations.
Maven members have logged more than 28 million miles on the road.
The average Maven City trip is 100 miles, more than 12 hours.
Maven City's most popular vehicles are the Chevrolet Malibu, Spark and Volt.