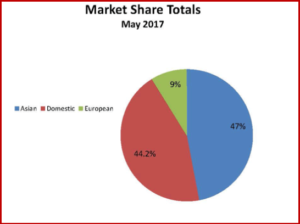 While truck sales remain hot, up 6% from a year ago, May car sales are not at -9.3%, a continuing negative trend. The seasonally adjusted annual rate (aka SAAR) in the U.S. for May 2017 was 16.66 million units sold, a significant slide from 17.17 million units a year ago. Total light vehicle sales declined -0.5% compared to last May despite inexpensive fuels and low interest rates.
Worrisome is increasing incentives in an economy that is allegedly recovering. Incentives are up 33% from May 2016. However, transaction prices are also up, averaging $33,261, as consumers buy more expensive light trucks instead of cars.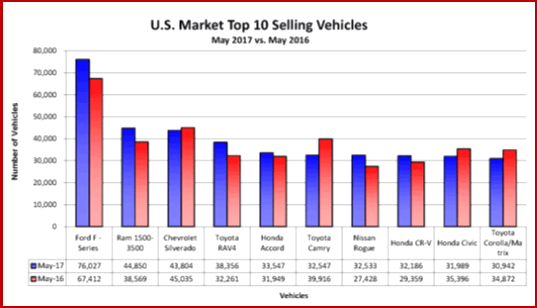 Six of the month's Top Ten selling vehicles were trucks, led by the Ford F-Series, Ram, and Chevrolet Silverado pickups in first, second, and third place, respectively. In fourth place overall, the Toyota RAV4 was the most popular crossover for May with sales up 18.9% compared to May 2016. Nissan Rogue took seventh place with sales that were up 18.9% over last May. The recently-redesigned Honda CR-V was in eighth place with sales up 9.6% from last May. Top en sales are where the moneys made since they are more than 25% of the total market.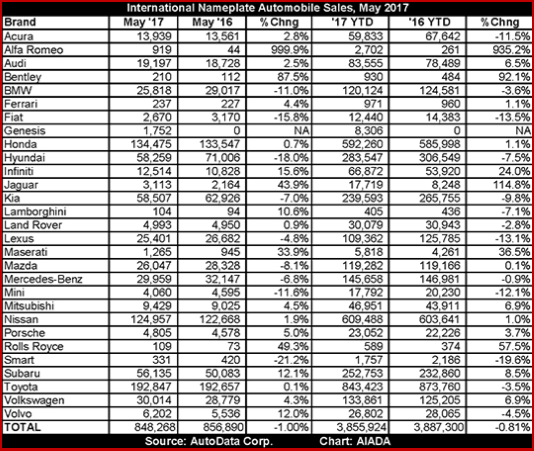 Offshore brand cars remain preferred among U.S. buyers. Honda Accord was the month's top-selling car in fifth place in the monthly roster with sales up 5%. Toyota Camry trailed in sixth place. down 11.8%. Honda Civic took ninth place for the month with sales down 9.6%. Toyota Corolla was in tenth place with sales down 11.3%. Nary a Detroit Three car in sight, and even the Japanese, which have dominated the car market are seeing large declines.
NADA on 2016
The nation's 16,708 franchised dealers sold a record 17.5 million new vehicles.
Total new-vehicle sales topped $995 billion.
Dealerships wrote more than 300 million repair orders, with service and parts sales of nearly $110 billion.
Franchised dealerships directly employed more than 1.1 million workers