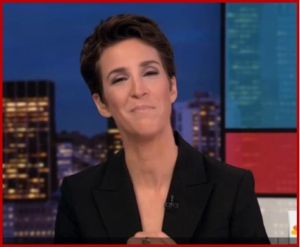 Rachel Maddow's 9 o'clock show beat every other prime time show during the week of March 6. This made her thoughtful, fact-filled show Number One for adults 25-54 years old in her time slot with an average 624,000 viewers. Maddow even beat the lying, racist pandering Bill O'Reilly of the Fox Propaganda channel. (http://www.msnbc.com/rachel-maddow-show)
The left-leaning, educated, articulate Maddow also thumped – by 14%  – her direct competitor and newcomer Tucker Carlson This is a big victory for MSNBC over Fox Non-News. On average, Maddow had 2.62 million viewers during the ratio period, an eight-year high and MSNBC's narrowest margins – about 1% – against Fox News to date.
It's no secret that during Trump's roughly 50-day chaotic transition that Maddow is one of the most analytical and critical of the new administration with her verified facts that backs up her analysis. When she speculates, it as framed as what is known and what is being inferred – unlike Nit Tweet Trumps groundless accusations, viz Obama tapped his line among many others.
Thus, you could argue that MSNBC is the loyal opposition to the GOP government. This is something we desperately need. There are times that try men's souls. It's Payne-full to endure Trump. As a result, the always vindictive, always bullying Trump is only granting his royal presence to Fox False-News for interviews. Let's hope this is enough to sink that lying organization.
"Tyranny, like hell, is not easily conquered; yet we have this consolation with us, that the harder the conflict, the more glorious the triumph."