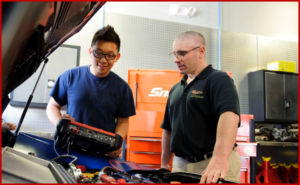 New England Institute of Technology (NEIT) is launching an online Bachelor of Science degree program in Automotive Service Management this month. It's for working automotive and transportation professionals. The bachelor's degree program combines what's claimed to be a solid foundation in general management with transportation focused technical and business courses designed to prepare graduates for "career advancement."
New England Tech Automotive Service Management Degree Online
Four Categories in Degree
Management Fundamentals (Marketing, Finance, Human Resource Management, Databases and Data Analysis)
Automotive Technology & Business (Sales and Customer Relations, Service Management, Inventory Management, Connected Technology and Mobility Strategy)
General Management (Business Law, Leadership, Strategic Management and Decision Making)
Technical Management (Environmental Health and Safety, IT Systems Management, Operations)
Classes are scheduled within a ten-week quarter with four academic quarters per year, thereby allowing students to earn their degree quickly while taking into consideration work and personal commitments. New England Tech says it offers quality, engaging online education with 24×7 technical support and a dedicated student success advisor. NEIT's online bachelor degree programs were ranked No. 8 nationally as one of the "Best Online Programs" by U.S. News' Online College Rankings (January, 2017).
The Automotive Service Management program  priced at $385 per credit. There's a $100 administration fee per quarter and a $155 student and tech fee per quarter. There are no lab fees. Textbooks costs vary per course. Textbook rental options are often available at significant savings.
Since 1940, New England Institute of Technology has developed programs that prepare graduates for positions of leadership in the technical, industrial, business and health care communities. The private, non-profit college has an annual enrollment of approximately 3000 students, and maintains three campuses in Warwick and East Greenwich, Rhode Island. NEIT is institutionally accredited by New England Association of Schools and Colleges (NEASC), and holds many specialized accreditations for its technical programs, including NATEF accreditation for its automotive technology programs.
For additional program information please visit, http://www.neit.edu/Programs/Online-and-Hybrid-Degree-Programs/Automotive-Service-Management-Bachelor-Degree-Online.