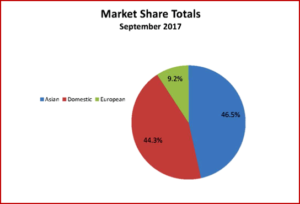 September U.S. auto sales dropped notably when compared to September 2016, but were still relatively strong,according to AutoData. It said that the seasonally adjusted annual rate (SAAR) in September was 17.76 million units compared to 18.05 million units a year ago. Industry-wide, 1,435,689 light vehicles were sold in September, compared to 1,512,556 in August and 1,522,297 in July.
Un-adjusted for business days, sales for all brands were down 0.5% from September 2015 but up 0.5% year-to-date. Offshore brands outperformed the market last month as crossover and truck sales increased and cars held their place and up 0.7% for the year.
FCA sales dropped for the calendar year -7.9% at 1.58m (year-over-year); Ford Motor was off -2.7% at 1.9m; General Motors sales declined -0.8% at 2.2m.
Detroit Three makers continued to have problems selling cars – as Ford's announcement that it is mostly abandoning the car market (the Fiesta ST is the first known casualty) and spending the $7 billion saved on crossovers and autonomous vehicles, as well as a new Dearborn campus that allegedly will attract Silicone Valley talent away from California weather and lifestyles, the unlimited capital Google and Tesla, which trades in stories and promises, but not actual earnings. Michigan Makes Rules for The Research, Testing, Use, and Ultimately Public Sale of Autonomous Vehicles Continue reading →