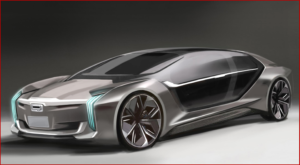 While U.S. journalists are obsessing over the New York Auto Show this week (not a mea culpa, but AutoInformed is admittedly part of this) in the world's largest car market – China – Qoros Automotive will reveal its Model K-EV, an electric concept car at Shanghai Auto 2017. (Qorus, New Chinese Brand Coming to China, Europe, Mid-East)
K-EV has, arguably, forward-looking design and technologies, including an unusual asymmetric door design, including a gull-wing door on the driver's side that automatically opens when activated. The front passenger's door includes a two-hinged system that can open outward like a conventional door or slide horizontally. The rear passenger-side door has a sliding system for passengers entering and exiting the car.
The car's interior has been designed with two distinct cabin spaces in the front and rear, providing more comfort to back-seat passengers it's claimed.
The so-called "Clever Carbon Cabin" (aka CCC) technology is made primarily from carbon fiber. This reduces the mass of the vehicle, contributing to an increase in the vehicle's energy efficiency to provide high mileage that helps reduce "range anxiety." Carbon fiber also maintains vehicle body strength and durability while maintaining occupant safety over long-term use, according to Qoros.
The Model K-EV has an individually-powered all-wheel drive system using the same high performance electric drive-line technology found in Regera, a plug-in hybrid designed by Swedish manufacturer Koenigsegg. Qoros claims – not unusually for an auto company – that this technology puts Model K-EV ahead of 'concept car' category and opens the possibility for mass production soon.
Leon Liu, Chief Executive Officer of Qoros Auto, stated that Model K-EV represents a crucial milestone furthering the company's new energy strategy. Following the debut of Model K-EV at Shanghai Auto, plans are being drawn to put Model K-EV into mass production in 2019.