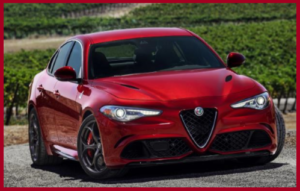 Ten vehicles in production by automakers stand out as the likeliest to grow in value and appeal as collectible cars to enthusiasts, claims Hagerty. To be eligible for the "Hagerty Hot List," a vehicle must be produced within the 2017 model year and have an MSRP of less than $100,000.
"All ten have that 'it' factor that makes them stand out from the crowd," said McKeel Hagerty, CEO of Hagerty. "In some cases, it's power, in some cases it's innovation or drivability, but all of them have the qualities that define a future classic."
See AutoInformed.com
 2017 Hot List of Collect Cars

Alfa Romeo Giulia Quadrifoglio ($72,000) – With 505 horsepower, the Giulia Quadrifoglio clocks 0-60 mph in 3.8 seconds l via a bi-turbo V6 engine. Beating all cars in its class around the Nürburgring, the Giulia Quadrifoglio tops its segment.
Audi TT-RS ($60,000 est.) – Supercar speed in the sports car market, this is the sequel to the TT-RS. With 400 horsepower from a new 5-cylinder, the TT-RS corners at an extreme 1.2 g-forces and accelerates from 0-62 mph in only 3.7 seconds.
Chevrolet Camaro ZL1 ($61,140) – The Camaro has seen many generations and performance upgrades, and this is the most important one yet. The 2017 Camaro ZL1 has a stat sheet that would make last year's Corvette nervous, and comes to the table ready to race. The legend continues to inspire today just as it did 50 years ago, as the Camaro reaches a whole new audience with this instant collector's item.
Chevrolet Colorado ZR2 ($40,995) – The ZR2  pickup truck comes with off-road tech: dynamic shocks, locking front/rear differentials, increased ride height and widened track. Its future collectability depends on  Chevrolet's production volume.
Chevrolet Corvette Grand Sport ($65,450) – With a sprint to 60 mph in 3.6 seconds and an 11.8 second ¼-mile time, the Grand Sport has the technology to compete with the big boys while offering a striking visual reference to its ancestors: the 1963 and 1996 Grand Sports.
Fiat 124 Spider Abarth ($28,195) – When Fiat announced they were resurrecting the classic 124 Spider, many enthusiasts were ecstatic. When FCA announced the architecture would be shared with the Mazda Miata, which made last year's Hot List, roadster fans knew they were in for a treat. With a 0 to 60 mph sprint in a healthy 6.3 seconds, the 124 Spider provides more power than its cousin through a MultiAir turbo engine with true Italian verve.
Ford Raptor ($49,520) – The original Ford Raptor defined a new production truck segment when it debuted in 2009. The first-generation special edition F-150 made it through the economic collapse, fuel crisis and the Baja 1000 and – due to conservative production decisions – is already becoming a collector favorite. For 2017, the Raptor is back with bigger muscles and a makeover, featuring additional horsepower and weighing 500 pounds less.
Mazda Miata RF ($31,555) – This  is an alumnus of the 2016 Hot List. This year it brings an exciting new feature: a hard top targa roof. Featuring the same fantastic qualities that make the roadster Miata such a hit last year, the RF opens the door to a new market with a more rigid structure and coupe-like design.
Porsche 718 Cayman / Boxster ($53,900-$56,000) – Few things are better to drive than the 2017 Porsche 718 lineup. Featuring a new turbocharged, flat-four engine, the 718s has 25 more horsepower than previous models, even with reduced displacement.
Toyota 86 ($26,255) – Since 2013, the Scion FR-S has been the darling of the entry-level sports car market. Now, its spirit lives on in the upgraded Toyota 86. The 86 brings on more aggressive styling with a wider stance while agility is turned-up a notch through shock tuning and a spring rate change. The Toyota 86 comes in a manual, which is a major win for driving fans.