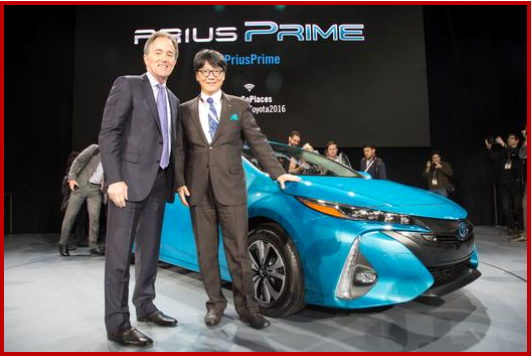 With aqua balloons and plenty of splashy video Toyota introduced its Prius Prime at a New York Auto Show press conference. The 4th generation Prius, the world's first plug-in hybrid – still has a dual motor system that lets drivers run on gas and/or electricity.
Bill Fay, Group Vice President and division manager of Toyota Motor Sales, said the Prius Prime's manufacturer-estimated 120 or above MPGe (miles per gallon equivalent) is expected to be the highest MPGe rating of any Plug-in Hybrid.
It also represents a +26% enhancement compared to its predecessor, because of greater battery capacity – 8.8 kWh – and an improved hybrid system. In hybrid mode, the Prius Prime is targeting a hybrid MPG equal to or better than the Prius lift back.
With the new Prius, it's claimed more than 51% of commuters could get to work and home without plugging in, which is double what previous models offered because of a new.  Other changes are an 11.6 HD multimedia screen, quad LED headlights and LED taillights.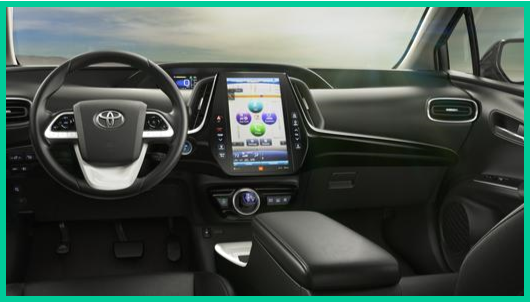 The larger, color display touch screen is precisely where the industry is heading. Those who still offer screens as small as iPhone 5's will likely get left behind particularly in more expensive segment. The Prius has Qi compatible wireless Smartphone charging, premium JBL audio system.
Safety upgrades include pre-collision warning and a pedestrian detection function, lane departure alert with steering assist, full-speed dynamic radar cruise control, automatic high beam headlights and intelligent parking assist.
All 2017 Prius hybrid models will come standard with eight supplemental restraint system airbags, including multi-stage driver and front-passenger airbags; driver and front passenger side airbags; full-length curtain airbags; a driver knee airbag, and a front passenger seat cushion airbag.
Powertrain
Both the standard Prius hybrid and the Prius Prime are powered by Toyota's Hybrid Synergy Drive powertrain, combining the output of the gasoline engine and electric motor through a planetary-type continuously variable transmission.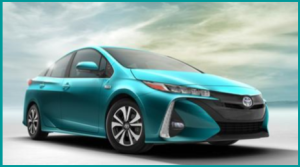 In Hybrid mode, the Prius Prime can run on the gasoline engine or electric motor alone or a combination of both. Even when not running in EV mode, the Prius Prime will automatically rely more on its electric capability in situations where it is more efficient than running the gasoline engine, especially in urban and suburban driving and during shorter trips.
The Prius Prime will also have a Toyota-first dual motor generator drive system, using both the electric motor and the generator for drive force, helping to boost acceleration performance. Regenerative braking recaptures electrical energy under deceleration and braking and stores it in the battery, which helps to reduce fuel consumption.
Prius Prime's gasoline engine is similar to engines found on all 2016 Prius hybrid models. The 1.8-liter Atkinson-cycle, 4-cylinder engine – the same as in all 2016 Prius hybrid models – earns a significant 40 percent-plus thermal efficiency. Contributing to efficiency, there is a smaller, lighter, quieter hybrid system water pump and an exhaust heat recirculation system that speeds engine warm-up.
Design
The new-generation Prius Prime is 2.4 inches longer, 0.6 inches wider and about an inch lower than its predecessor. The growth boosts cargo room over its predecessor and gives the Prius Prime a road-hugging stance.
The aerodynamic body has a coefficient of drag that is expected to be among the lowest for production sedans. Automatic grille shutters help reduce drag by closing when airflow to the radiator is not needed.
Once more the Prius Prime will be available in all 50 states once introduced.