---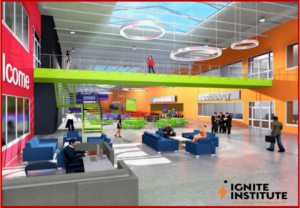 The Toyota Quality and Production Engineering Laboratory on its campus in Erlanger, Kentucky, will change into a public school  to serve the Northern Kentucky/Greater Cincinnati region with no Trump anti public school vouchers involved.
The vision, a collaborative endeavor involving state and local leaders, is to encourage the next generation to be creative and engaged, tech-savvy and work-ready problem solvers.
Kentucky Governor Matt Bevin announced a $6.8 million Work Ready Skills initiative grant to Boone County Schools to adapt Toyota's office and engineering lab into a school. The new school, scheduled to be ready for students in fall 2019 for the 2019-2020 school year, will be called the Ignite Institute at Roebling Innovation Center.
The stated goals of Ignite Institute are: to open a world of possibilities for students through science, technology, engineering, arts and mathematics; to fill the workforce pipeline with creative, educated workers for the future; and to help make the Tri-State a magnet for high-value industries, enabling it to compete globally and elevating opportunity for all in the region.
The center has been endorsed by Kentucky Governor Matt Bevin, Kentucky Secretary for Education and Workforce Development Hal Heiner, and Education Commissioner Stephen L. Pruitt, among others.
The school will open initially for grades 9 through 12, with a capacity of 1,000 students. It will be public, free and inclusive. Organizers envision it serving students throughout Northern Kentucky and, with additional private support and funding, the expectation is it will serve students from urban to rural areas throughout the Tri-State area.
The school will be funded with both public school dollars and, it is hoped, private support to serve students from a diverse range of socioeconomic, demographic and geographic areas.  Admission will be based on a student's desire to learn in an environment where the unique skill sets required for 21st century employment opportunities are the focus.
The center's name, of course, is a tribute to John A. Roebling (1806-1869), who designed one of the region's landmarks, the suspension bridge spanning the Ohio River. No mention of Roebling's landmark creation, the Brooklyn bridge by Toyota. Not only was he an internationally known engineer, Roebling was a student of philosophy, a civic and moral leader, and a successful businessman and manufacturer.  
Toyota's Quality and Engineering Laboratory facility is a 183,000-square-foot, two-story building located at 37 Atlantic Avenue, Erlanger, Ky. It has lab and engineering workspaces, high bay equipment areas, office spaces, high ceilings to accommodate robotics/automation, several mezzanines, and multiple elevators. The gift also includes approximately 22 acres and adjacent parking lots.
Toyota still occupies the Erlanger campus but has been deserting it as the company consolidates its North American headquarters in Texas. Its final member groups are scheduled to move from the lab building by the end of 2017. With its plant in Georgetown employing 8,000 and producing more than 500,000 vehicles a year, Toyota still has some presence in Kentucky.
Learn more about the Ignite Institute at Roebling Innovation Center and watch a video involving regional leaders at www.boone.k12.ky.us/igniteinstitute.