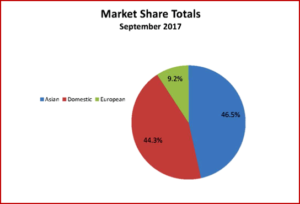 September U.S. auto sales dropped notably when compared to September 2016, but were still relatively strong, according to AutoData. It said that the seasonally adjusted annual rate (SAAR) in September was 17.76 million units compared to 18.05 million units a year ago. Industry-wide, 1,435,689 light vehicles were sold in September, compared to 1,512,556 in August and 1,522,297 in July.
Un-adjusted for business days, sales for all brands were down 0.5% from September 2015 but up 0.5% year-to-date. Offshore brands outperformed the market last month as crossover and truck sales increased and cars held their place and up 0.7% for the year.
FCA sales dropped for the calendar year -7.9% at 1.58m (year-over-year); Ford Motor was off -2.7% at 1.9m; General Motors sales declined -0.8% at 2.2m.
Detroit Three makers continued to have problems selling cars – as Ford's announcement that it is mostly abandoning the car market (the Fiesta ST is the first known casualty) and spending the $7 billion saved on crossovers and autonomous vehicles, as well as a new Dearborn campus that allegedly will attract Silicone Valley talent away from California weather and lifestyles, the unlimited capital Google and Tesla, which trades in stories and promises, but not actual earnings. Michigan Makes Rules for The Research, Testing, Use, and Ultimately Public Sale of Autonomous Vehicles
Offshore nameplate vehicles continue to count as seven of the top-ten-selling vehicles for the month – an important measurement because it represents more than 25% in total sales. In fourth place behind the Ford F-Series, Dodge Ram, and Chevrolet Silverado pickup trucks, the Honda CR-V crossover was once again the top international pick for U.S. buyers, with sales for the compact SUV at 31,884 units—up 6.5% from last September. The Toyota RAV4 – it invented the compact crossover segment in the 1990s – and Nissan Rogue were also popular crossover SUVs in September. The RAV4 finished the month in seventh place with sales up 8.6%, while the Rogue landed in tenth place with sales up 5.6%.
Some of the most popular cars on the month's top-ten list included the Toyota Corolla (fifth place), Toyota Camry (sixth place), Honda Civic (eighth place), and Honda Accord (ninth place) – nary a Detroit offering in sight.
Some of the largest international nameplate brands saw small, but significant gains in what was an overall slow sales month for the industry. Honda sales were up 1.5%, Hyundai sales rose 2.2%, Nissan saw an improvement of 4.3%, and Toyota sales were up 1.4%. Pickups and crossovers accounted for 59.9% of all sales, car sales were down 7.1% to 40.1% of all vehicles sold. International brands sold788,939 units in September, down from 845,229 in August and 858,541 in July, but up from 778,121 a year ago.
Asian brands occupied, so to speak, 46.1% of September's market, down from 46.8% in August, but beating the domestic nameplates' 45% market share. Overall, Asian nameplate dealers sold 661,540 vehicles last month and were up 1.4% for the year.
European brands – the most vulnerable to Trump's so far ill-fated border tax, like everything else he promised in what has become a do-nothing presidency – sold 127,399 vehicles for an 8.9% share of last month's U.S. auto market, down from 9.1% in August. European brand sales are down 2.5% year-over-year.
See AutoInformed.com: