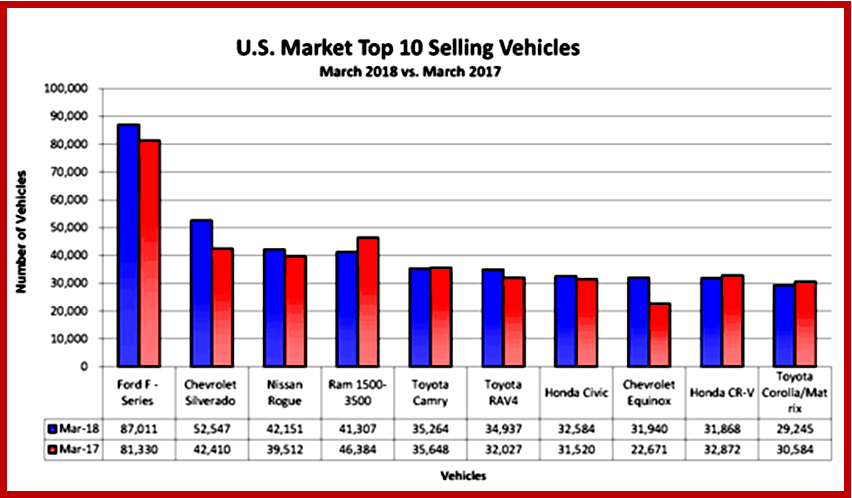 During an unexpectedly strong March, U.S. auto dealers sold 1.65 million vehicles, a 6.3% increase year-over-year. Detroit Three brands per AutoData held just 45.7% of the U.S. market in March, selling 755,152 vehicles – with 612,052 or a whopping 81% of these in the light truck category. The numbers represented a 10.8% increase from March 2017 when domestic brands held 43.8% of the U.S. auto market and sold 681,729 vehicles, as well as February when they occupied 44.6% of the market and sold 581,146 vehicles.
AutoData Corp. reports that the seasonally adjusted annual rate (SAAR) for March was 17.48 million units versus 16.82 million units a year ago. Total industry unit deliveries, including all brands and un-adjusted for business days, increased six% compared to last March. Sales were up 27% compared to February 2018.
Asian brands occupied 45.1% of the U.S. auto market, a decline from a 46.1% share held in February and down from 47% in March 2017. However, sales totals of 745,612 units were up from February when they sold 600,402 vehicles. They were also up 2% over last February when 731,163 vehicles were sold.
European brands saw sales in March increase 6.9% from the same month in 2017 with 9.2% of the overall market and sold 152,765 vehicles – mostly premium classes – to American consumers. Although the Euroshare of the U.S. market fell slightly from the 9.3% held in February, European automakers experienced a similar upward tick in sales from February when they sold 112,670 vehicles
"The spring selling season has started off strong," said AIADA President Cody Lusk. "Solid auto sales are the result of a robust economy and a healthy jobs market. Today's numbers are also driven by the fact that American consumers are finding the products and the deals they want at their local dealership."
Top Ten Sellers
 This is where the money is at roughly ~30% of all sales, so it's not surprising that the March Top Ten selling vehicles confirms and reinforces a long-standing trend – trucks and SUVs are the most popular vehicles. Seven of the month's top ten selling vehicles are in one of the segments, with the Ford F-Series and Chevrolet Silverado pickups once again dominating in first and second place, respectively. The Ford F-Series was up 7% from March 2017, while the Chevrolet Silverado saw sales increase 23.9%. The Ram pickup finished the month in fourth place with sales down 10.9% due to a changeover. Butting Ram out of the third spot it normally occupies was the Nissan Rogue just edging Ram's sale of 41,307 by 844 additional units
In the SUV category, the Nissan Rogue once again led among shoppers. The crossover logged a third-place finish for the month with sales up 6.7%. It was joined in sixth place by the Toyota RAV4, with sales up 9.1%; the Chevrolet Equinox in eighth place, which saw sales hurdle upward 40.9%; and the Honda CR-V in ninth place, with sales down 3.1%.
A few cars still made the month's top sellers, led by the Toyota Camry in fifth place. Sales for the sedan were down 1.1% from a year ago. In seventh, the Honda Civic saw sales increase 3.4%, while the Toyota Corolla finished March in tenth place, with sales down 4.4%.