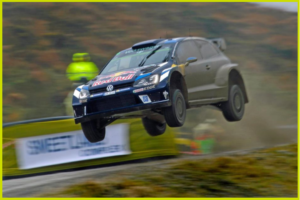 First Audi withdrew from FIA WEC racing  in 2017, now Volkswagen is dumping the FIA World Rally Championship during the same season in an apparent move to cut costs and generate profits to help pay for the costs of dieselgate.
What's curious is both VW Group brands dominated the racing. In VW's case, the move comes after four extremely successful years, in which Volkswagen won WRC titles in the driver, co-driver and manufacturer rankings in a row with the Polo R.

Both FIA sanctioned series were ruinously expensive. Now VW is facing seemingly unending expenses in the dieselgate matter. More criminal charges are also under investigation. A proposed new customer racing program and the extension of existing ones will cut costs, and might even make money.
"The Volkswagen brand is facing enormous challenges. With the upcoming expansion in electrification of our vehicle range we must focus all our efforts on important future technologies. We far exceeded our sporting goals in the WRC, now we are realigning Volkswagen Motorsport and moving the vehicle technology of the future more starkly into focus," said Frank Welsch, Member of the Board of Management responsible for Technical Development, to about 200 motorsport employees in Hannover today.
Volkswagen is going to concentrate more on customer racing. As well as the Golf GTI TCR on the circuit track and the Beetle GRC in rallycross, it plans to offer customers products and will develop a new the next generation Polo and offer the car to paying customers in 2018 and – it's promised – onwards.
Starting in the 2016 season, the Golf GTI TCR prepared by Volkswagen Motorsport offered a production-derived customer sport vehicle for drivers and teams committed on global and national levels in the TCR touring car category. That program is ongoing.