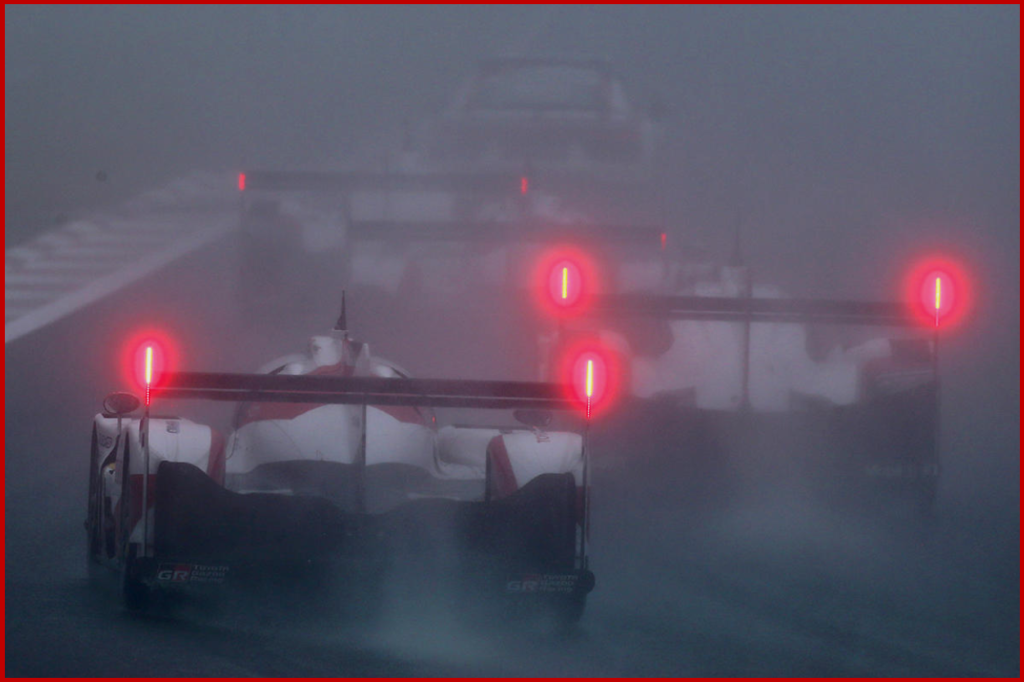 Toyota beats Porsche at Fuji – aka Suzuka – during the FIA World Endurance Championship (WEC) at the 7th of 9 rounds of 2017 season. The Porsche LMP Team settled for third and fourth place finishes.
The six-hour race on the Fuji International Speedway was hindered by persistent rain, plus fog and staged in only 14-degree Celsius ambient temperature and 16-degree track temperature.
Interruptions influenced the track action. Persistent rain throughout the morning meant the race began behind the safety car, with Toyota drivers Kamui at the wheel of the #7 and Sébastien in the #8, but after 12 minutes the green flags waved.
Rain intensified and fog descended on Fuji Speedway, causing several interruptions to the race. The first came on 40 minutes with a safety car period, then 40 minutes later the race was red flagged, with the #8 running second and the #7 third.
Immediately after the race resumed, the two Toyota TS050 HYBRIDs took over first and second, setting up a fight for victory with Porsche #1 – the Le Mans winner – which was regularly interrupted by safety cars due to rain, fog and accidents.
Sébastien Buemi, Anthony Davidson and Kazuki Nakajima won their third race of the season in the #8 TS050 HYBRID, Toyota's fifth victory in six events at Fuji Speedway.
Porsche drivers Neel Jani (CH), André Lotterer (DE) and Nick Tandy (GB) finished in third place. This year's Le Mans winners Earl Bamber (NZ), Timo Bernhard (DE) and Brendon Hartley (NZ) had started from pole position and came home fourth with recording the fastest race lap (1:37.702 minutes on lap 19 of 115).
The second red flag came after four hours and 31 minutes and the race was not restarted. As just over 75% of the scheduled race duration had been completed, but full points were awarded. This favored, strongly, Toyota which has been haunted by reliability problems.
In the manufacturers' world championship standings, Porsche continues to lead with 270 points, Toyota follows on 211.5 points after their one-two win in the shadow of – actually, in this case an invisible Mount Fuji.  Bamber/Bernhard/Hartley top the drivers' rankings with 172 points, their advantage over the best placed Toyota drivers having dwindled to 39 points. Jani/Lotterer/Tandy remain in fourth position now on 98 points. At the eighth and penultimate 2017 WEC race in Shanghai (CN) on November 5th, Porsche wants to convert its match point into a successful title defense.